History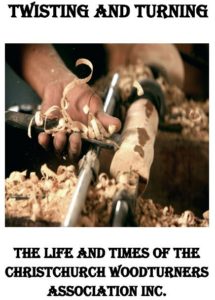 The first Annual General Meeting of the Christchurch Woodturners Association was held at the College of Education Lecture Theatre on March 7th, 1996, at 7.30pm.
A committee of eight was elected, three of whom were still on the committee i 2014. An annual subscription of $25.00 was settled on, reducible to $20.00 if paid by June 30th. A low annual subscription is still a feature today.
That was the beginning. The club started with a membership of 31 and had grown to a membership of 125 but in 2017 membership was down to 76.
Over the years we have joined in many "participating" events held in the South Island: "Otematata Experience" "Spin a Round Waitaki" "Learn to Turn" at Harihari and South Island "Fun Days".
In 2000 we hosted the South Pacific Symposium at Living Springs. This was a great success with demonstrators from the North and South Islands, Australia and Hawaii. Again in 2005 we hosted another Symposium at Blue Skies, Kaiapoi. This time with demonstrators from New Zealand and the United States.
The Club hosted the "South Island Fun Day" in 2002 and 2003. This is a fun event with competing teams of six turning the set pieces. We chose for our competitions Skittles and Balls and Egg and Spoon. This ended with playing skittles and also having an egg and spoon race! What fun!
In 2006 we purchased a shuttle trailer to transport all our gear to the College on meeting nights, and to other venues. This includes a library, sound equipment, cameras and TV screen, an electrically operated stand and lathes, etc.
In September 2006 we held a special celebration dinner for our 10th Anniversary.
Since 2007 the Club has run "Certificate in Woodturning" classes for the benefit of members.  Up until the end of 2012 these were conducted as an outreach programme from the Aoraki Polytechnic in Timaru. The first two classes graduated in 2009, and received their certificates in a ceremony at the Cashmere Club on October 22, 2009. By mid 2012, five classes had completed the full course and graduated. In 2013, class 6 is also due to graduate, and a further 2 classes are in progress.
The club celebrated the first 20 years in 2016. A booklet Christchurch Woodturners – The first 20 years was produced by a club member, John Nimmo and was launched at the 20 year celebration weekend in September 2016.

In 2017, Bruce Irvine a founding member and long term committee member in various roles was made a life member.