For sale
At the club meeting each month you may purchase or order some of the following items as well as tools and wood that may be bought along by members.
Crown Gouges
Only good British steel is used in their construction, and they come complete with a substantial handle. Prices vary for different gouges. See Noel.
Other woodturning tools and accessories
Available from Bill Owen in Oamaru, these can be purchased through the club. See Noel.
Club Hats
Show your support for your club, both financially and to the general public. Purchase one of these hats and wear it when you are woodturning to keep the shavings out of your hair. If you don't have hair, you can wear it outside to keep the sun off. Wear it when you meet other woodturners from other clubs. Be proud to say that you belong to the Christchurch Woodturners Association. See Ray Morgan.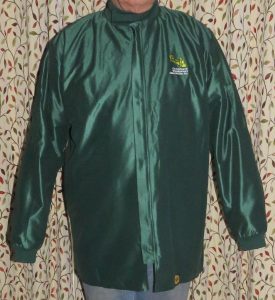 Club jackets
Club jackets with club logo are also available to order, currently $85. Sizes are generous for those winter days in the workshop. The jackets have a zip front, elasticated wrist bands and a neckband with velcro closure. See Ray Morgan.
Walnut oil
Walnut oil is available from Noel.